D-Luciferin Potassium Salt K+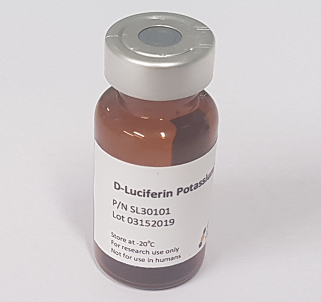 Catalog number: SL30101
SL30101-100mg - CHF50
SL30101-1g - CHF140
SL30101-5g - CHF500
Description
Luciferin is a common bioluminescent substrate used for imaging and quantification of luciferase expression. It emits a characteristic yellow-green light upon oxidation by luciferase in the presence of cofactors such as ATP, Mg2+ and oxygen.
Luciferin is a common reagent used in the biotechnology field and specifically for in vivo imaging. Luciferase labeled tumor cells, stem cells or infectious diseases are typically injected into research animals such as rats or mice. The injection of luciferin allows for the real-time, noninvasive monitoring of disease progression and/or drug efficacy in these model systems using bioluminescent imaging instruments.
Luciferin is also commonly used for in vitro research, including luciferase and ATP assays, gene reporter assays, high throughput sequencing and various contamination assays.
Product Details
Alternate Names(S)-2-(6-Hydroxy-2-benzothiazolyl)-2-thiazoline-4-carboxylic acid potassium salt, 4,5-Dihydro-2-(6-hydroxy-2-benzothiazolyl)-4-thiazolecarboxylic acid potassium salt
AppearanceLight yellow solid
CAS #115144-35-9
Molecular FormulaC11H7KN2O3S2
Molecular Weight318.41
Purity≥99.8% by Chiral HPLC
SolubilityH2O (~40 mg/ml)
SMILESC1C(NC(=C2N=C3C=CC(=O)C=C3S2)S1)C(=O)[O-].[K+]
PubChem CIDCID 71299756
MDL NumberMFCD00044928
HandlingProtect from air and light
Storage Conditions-20°C
Shipping ConditionsGel Pack
USAGEFor Research Use Only! Not For Use in Humans.
Further information
Certificate of Analysis – available upon request