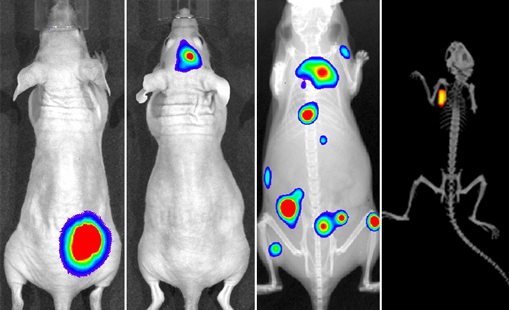 SwissLumix provides reagents and services for in vitro and in vivo optical imaging applications. Our reagents enable extremely sensitive imaging and quantification of a broad range of biological processes and molecular pathways in the areas of oncology, nutrient metabolism and infectious diseases.
Our Areas of Expertise Include:
Bioluminescent substrates including D-Luciferin K salt and ready to use injectable luciferin kits

Bioluminescent mammalian cell lines with ultra-bright luc2 luciferase for in vivo applications

Bioluminescent caged luciferin reagents for monitoring biological processes in vivo

Fluorescent targeted imaging agents, dyes and labelling kits

Custom services including development of imaging reagents, generation of bioluminescent cell lines, lentiviral packaging
Learn More:
For more information on our products and services or if you would like to place an order, please call us at +41 78 857 1660. You can also email us at This email address is being protected from spambots. You need JavaScript enabled to view it. or send us a message using our contact form.
Products
D-Luciferin Potassium Salt K+

Luciferase Labelled Cell Lines

Bioluminescent Imaging Reagents
Services
Bioluminescent Cell Line Development

Custom Lentiviral Packaging

In vivo Contract Research Services
Contact Us
If you would like more information or have any questions about our products or services, please contact us today.